Pedro Almodóvar Caballero (born 25 September 1949) is a Spanish film director, screenwriter and producer.
Almodóvar films, marked by complex narratives, employ the codes of melodrama and use elements of pop culture, popular songs, irreverent humor, strong colors and glossy décor. Desire, passion, family and identity are among Almodóvar's most prevalent themes. His films enjoy a worldwide following and he has become a major figure on the stage of world cinema.
He founded Spanish film production company El Deseo S.A. with his younger brother Agustín Almodóvar who has produced almost all of Pedro's films.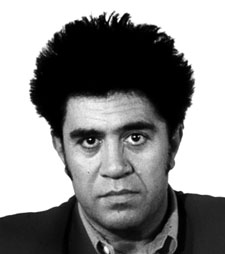 Wikipedia
http://en.wikipedia.org/wiki/Pedro_Almod%C3%B3var
imdb
http://www.imdb.com/name/nm0000264/
...
Almodovar official
http://www.clubcultura.com/clubcine/clubcineastas/almodovar/eng/homeeng.htm
Almodóvarlandia
http://www.almodovarlandia.com/almodovarlandia/navigation/almodovarlandiamain.htm
sences of cinema
http://archive.sensesofcinema.com/contents/directors/06/almodovar.html
viva pedro
http://www.sonyclassics.com/vivapedro/
»The Patty Diphusa Stories« and Other Writings«
http://www.almodovarlandia.com/almodovarlandia/books/pattydiphusa.htm
Youtube
http://www.youtube.com/results?search_query=pedro+almodovar
...