Alexander Davidovič Brener born 1957 in Alma-Ata, is a Russian-Jewish performance artist. His performances of note include defecating in front of a painting by Vincent Van Gogh at the Museum of Fine Arts in Moscow, having sex on city streets, vandalizing art work.
---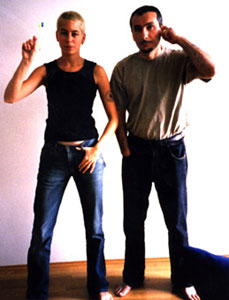 Alexander Brener& Barbara Schurz:
http://subsol.c3.hu/subsol_2/contributors/brenerbio.html
"ANTI-TECHNOLOGIES OF RESISTANCE"
Alexander Brener & Barbara Schurz
http://subsol.c3.hu/subsol_2/contributors/brenertext.html
"Hi Viennese art-people, how do you do?!"
http://www.kunstnet.at/knoll/04_01_23.html
Brener in wikipedia:
http://en.wikipedia.org/wiki/Alexander_Brener
---
IZO - russian art&c:
http://www.izo.com/alexander-brener/
Alexander Brener, a 39 yeal old Russian performance artist (who first came to the attention of the art world after damaging a painting by Chinese artist Gu Wenda ), sprayed a green dollar sign over fellow Russian Kazimir Malevich's Suprematisme 1920-1927
On Saturday morning January 4th 1997,Brener after supposedly travelling to Amsterdam for the express purpose of damaging the painting sprayed a green dollar sign on the work. The oil on canvas painting depicts a white cross on a light grey background and Brener said he intended the dollar sign to appear nailed to the cross.
Brener surrended himself to museum security and in a statement made later to police demanded his work be viewed as a protest against "corruption and commercialism in the art world"1 and as such, performance art.
The Amsterdam Criminal Court felt otherwise and sentenced Brener to ten months imprisonment. Five months were suspended (with the time spent in pre-trial detention subtracted), and two year's probation during which time he was prohibited from entering the Stedelijk Museum. Brener supposedly engaged in a hunger strike during his prison term as a protest against the harsh penalty imposed on him.
In court Brener is recorded as saying 'The cross is a symbol of suffering, the $ a symbol of trade and merchandise. On humanitarian grounds are the ideas of Jesus christ of higher significance than those of the money. What I did WAS NOT against the painting, I view my act as a dialogue with Malewitz.
http://web.archive.org/web/20070314055854/http://www.renewal.org.au/artcrime/pages/malevich1.html
Alexander Brener trial report:
http://www.kinetikonpictures.com/films/brener.htm
Letter of support for Brener:
http://web.archive.org/web/20070116125615/http://www.ljudmila.org/embassy/brener.htm
---
Lecture: 'Violence to Endurance: Extreme Curating' at the ICA
What would your reaction be if this happened? You go to an art lecture at the ICA, sit down and listen to each member of the panel speak, occasionally taking notes. Periodically they are interrupted by a 50-year old man with a thick Russian accent saying 'Bullshit, this is not shocking.' Then, this man stands up and walks to the front of the room (it's not far – he's sitting on the front row). He undoes his belt, drops his trousers and takes a shit into his own hand. He does his trousers and belt up, walks up to the man in the centre of the panel and deposits the shit in his glass. He then sits back down, a slight look of triumph on his face.
http://www.spoonfed.co.uk/spooners/tom-699/lecture-violence-to-endurance-extreme-curating-at-the-ica-495/
---