Tehching (Sam) Hsieh (born 1950, Nanjhou, Pingtung County, Taiwan) is a noted New York City-based performance artist; he has been called a "master" by fellow performance artist, Marina Abramović.
Tehching Hsieh dropped out from high school and started creating art in the form of paintings; he went on to create several performance pieces after finishing his three years of compulsory military service in Taiwan. In 1974, Hsieh jumped ship to a pier of Delaware River, near Philadelphia, and made a living as a dishwasher and cleaner during his first four years in New York. From 1978 – 1986, Hsieh accomplished five One Year Performances; from 1986 – 1999, he worked on what he called his "Thirteen-Year Plan". On Jan 1st, 2000, in his report to the public, Tehching Hsieh announced that he has kept himself alive. He stopped making art since then.
In 2009 the Museum of Modern Art (MoMA) in New York exhibited a collection documenting his performance. The Solomon R. Guggenheim Museum in New York also showed one of his works in 2009 as part of its retrospective exhibition, "The Third Mind: American Artists Contemplate Asia: 1860-1989."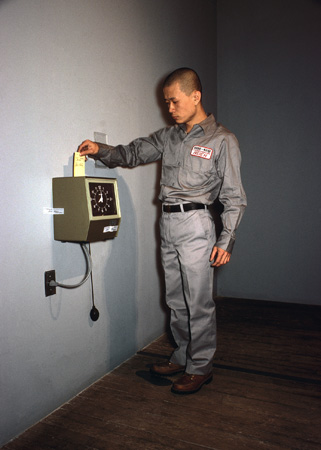 One Year Performance 1980-1981 -- Hsieh punched a time clock every hour on the hour.
One Year Performance 1981-1982 -- Hsieh lived outdoors in New York City.
Linda Montano and Tehching Hsieh. New York City, 1984, Photo: Alex and Allyson Grey
The Year of the Rope: An Interview with Linda Montano & Tehching Hsieh
http://www.communityarts.net/readingroom/archivefiles/2002/09/year_of_the_rop.php
One Year Perfomance webpage:
http://www.one-year-performance.com/
One Year Performance 1978-1979, Life Images. Photo Cheng Wei Kuong
One Year Performance 1978–1979, 365 Self-portraits. Day 1 (left) and Day 365. Photos Cheng Wei Kuong.
Tehching Hsieh in wikipedia:
http://en.wikipedia.org/wiki/Tehching_Hsieh
Tehching Hsieh's Life As Art.
http://www.vman.com/blog/tehching-hsiehs-life-as-art/
Tehching Hsieh: Caged Fury
http://www.artsjournal.com/artopia/2009/02/tehching_hsieh_caged_fury.html
---